Rocking K Ranch Sleigh Rides
Sleigh Rides!
Welcome to RockingK.com. Winter is here and we're ready! Sleigh rides are a wonderful way to enjoy time with family and friends. Rocking K Ranch makes an easy meeting place for larger groups or multi-family events.
Please note: We do actually need snow for sleigh rides!!! =) If there isn't snow where you are, we probably don't have it either! If you don't get a prompt call back, it might be because we simply can't do sleigh rides until we have snow. We do look forward to taking you for a spin as soon as the white stuff starts falling!
To inquire about schedules, prices, and ride times call
509-276-6369

Rides include refreshments and hot drinks. The rides are in the open air so dress warmly and be ready to have a good time!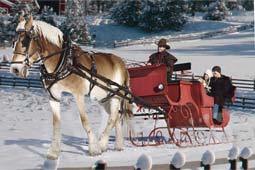 Create new memories with your special someone or book a fun family outing, and enjoy the beautiful countryside in a horse-drawn sleigh, and hear the laughter of the children as their eyes sparkle with delight on this memorable, special occasion.